Nico Ranieri started his career with Monta Consulting and Design in 2019. Even though he is new to his current role, his exposure to the industry and MCD began in his youth as he watched his father and owner, Bill Ranieri, grow what Monta Consulting and Design is today. Nico attended Colorado State University on a full scholarship to play football as the quarterback. He then attended the University of Central Florida where he graduated with his Bachelor's in Political Science. Nico continued his education with Barry University completing his law degree and internship with Busbin Law Firm.
A Father's Influence
Nico has always seen his father as a leader and attributes his success to the example set before him. Outside of the office, Bill was his football coach as a young child. Over the years, he has watched Bill change lives and build a reputation for his work ethic, exceptional service, and determination. Even though Nico's feet are technically bigger, he understands he has even larger shoes to fill and is humbled by the opportunity to follow in his father's footsteps.
Overcoming Challenges
Although Nico faces new challenges growing into his role at MCD, he has already overcome tremendous adversity. Nico recounted the first day of work at Monta Consulting & Design and the ride home that changed his life. He experienced a seizure behind the wheel, lost control of his vehicle, and totaled his car in an accident.
He recalls the confusion of gaining consciousness in an ambulance as they rushed him to the nearest hospital. It was there that he endured numerous tests and received devastating news. Results had shown that the trigger for the seizure was a brain tumor roughly the size of a golf ball. Within a month of his accident, Nico underwent brain surgery and was diagnosed with malignant Stage 3 brain cancer.
In October 2019, Nico Ranieri faced chemotherapy and radiation treatment with the same determination that his father taught him. After completing chemotherapy for six months, Nico was victorious – he had defeated all odds in July of 2020. Despite his circumstances, he was able to continue working at his own pace. Nico is thankful for all of the support received from the MCD team. He considers this to be the greatest challenge overcome to date.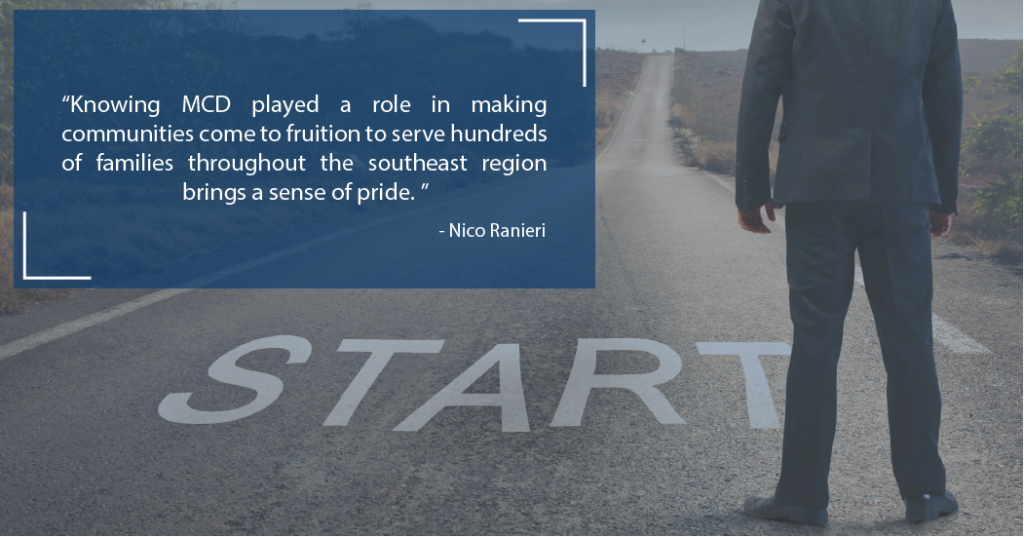 A Bright Future with Monta Consulting & Design
Never one to back down from a challenge, Nico continues to move forward with building the Ranieri legacy. His current role at Monta Consulting & Design includes business development, contract negotiation, and legal review. When asked what his favorite part of the industry is, Nico stated, " Bringing people's dreams to life." He then added that knowing MCD played a role in making communities come to fruition to serve hundreds of families throughout the southeast region brings a sense of pride.
Nico is excited for what the future holds as Monta Consulting & Design evolves into a full-service firm. Current services include master planning, architectural design, structural engineering, and builder services with plans to expand. The holistic approach ensures an efficient and seamless client experience for builders and developers.
The integrated services, strong work ethic, and earning the trust and respect of his colleagues are Nico's formula for becoming a reputable leader like his father. Nico's journey is a testament to finding solutions and overcoming challenges, qualities that transcend throughout the MCD culture. To build your dreams with a team dedicated to finding optimal solutions through a holistic approach, contact us today.