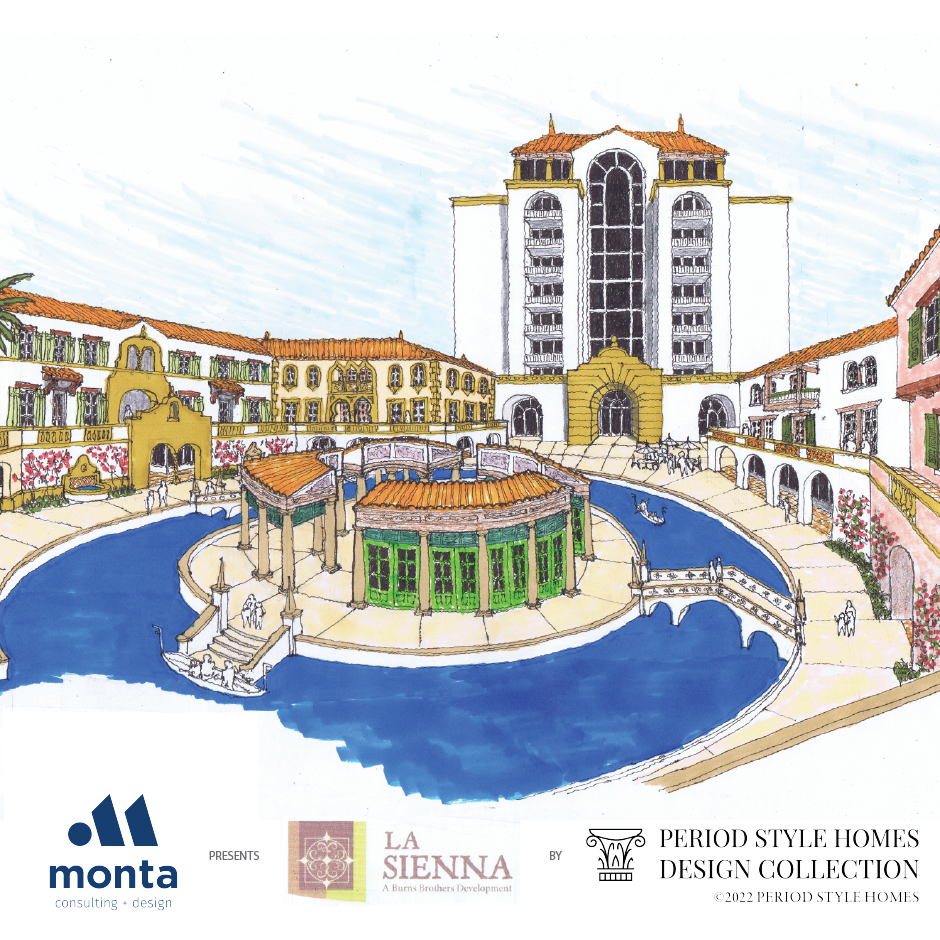 The master plan for LaSienna was developed in 2013 for Burns Brothers in Edinburg, Texas. Located near the border of Mexico, the owners envisioned creating a mixed-use community with a Spanish flair and design elements inspired by San Antonio's Riverwalk District. Because of the Spanish style the owners wanted to achieve, they contacted the Period Style Homes team, led by world-renowned classic designer Bud Lawrence. 
Master Plan Process
Lawrence was well known for his Classic Styles throughout the United States and previously designed a Spanish Colonial design for a spec lot during the recession in McAllen, Texas. This design contributed to his notoriety throughout Texas because the home sold quickly in a downturned market with multiple offers. The Period Style Homes team went on to develop other Spanish-style subdivisions in the region that provided an increased return on investment for landowners and developers. Lawrence's previous work and proof of concept made Period Style Homes the best choice for the Burns Brothers' vision.
After commissioning, various site visits to inspirational communities were conducted for the Period Style Homes team to gain insight into client preferences and market conditions. During this phase, the team discovered the vision was heavily influenced by Spanish Colonial designs and traditional town center neighborhoods. Upon completing the field research, a charette session was held for one week with a team of five designers and included land planning and design development.
Land Planning
The concept resulted in a mixed-use plan for the 800-acre property, including residential, commercial, and public spaces. The commercial space includes retail, office, restaurants, and a hotel. According to the master plan, over 199,000 sq. ft. of retail, 98,000 sq. ft. of office, 45,000 sq. ft. of office, and 256 hotel keys are achievable. In addition, the town center also contains a residential component with over 300 condo/apartment units. Other public amenities within the town square include a convention center, an amphitheater, a public square, and a church.
The town center comprises of approximately 300 acres and provides an additional 500 acres for other residential spaces. Planning for the residential phases included a diverse product line, including traditional single-family, townhomes, zero lot lines, and rear-load single-family. Each neighborhood also had access to private amenities and parks in addition to the town center.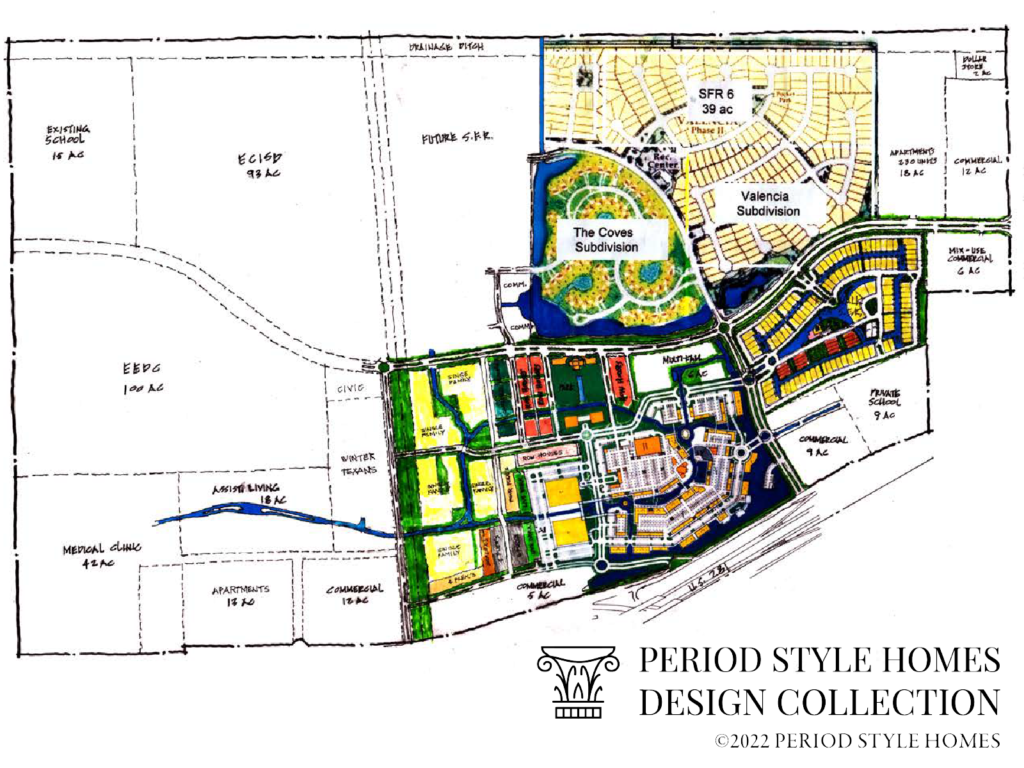 Unique Characteristics & Design Elements
LaSienna has no shortage of unique characteristics. The most notable feature is the 30-foot wide waterway that achieves connectivity and serves the community aesthetically. The river is man-made and runs throughout the town center and residential corridor. All residents would have access to the town center by nonmotorized boat, where they can use boat slips alongside pedestrian pathways and storefronts for parking. Over 75% of residents within the town center would have access to private boat slips.
To maintain the aesthetics of a classical Spanish town center called for an unconventional approach to parking. The two-story parking garages were grade level with the river but underneath the main level. Parking garages are hidden by commercial spaces in the interior corridors along pedestrian pathways. In many instances, the green space seen in the aerials is rooftop green space above the parking garages. See the section below that depicts the parking structure.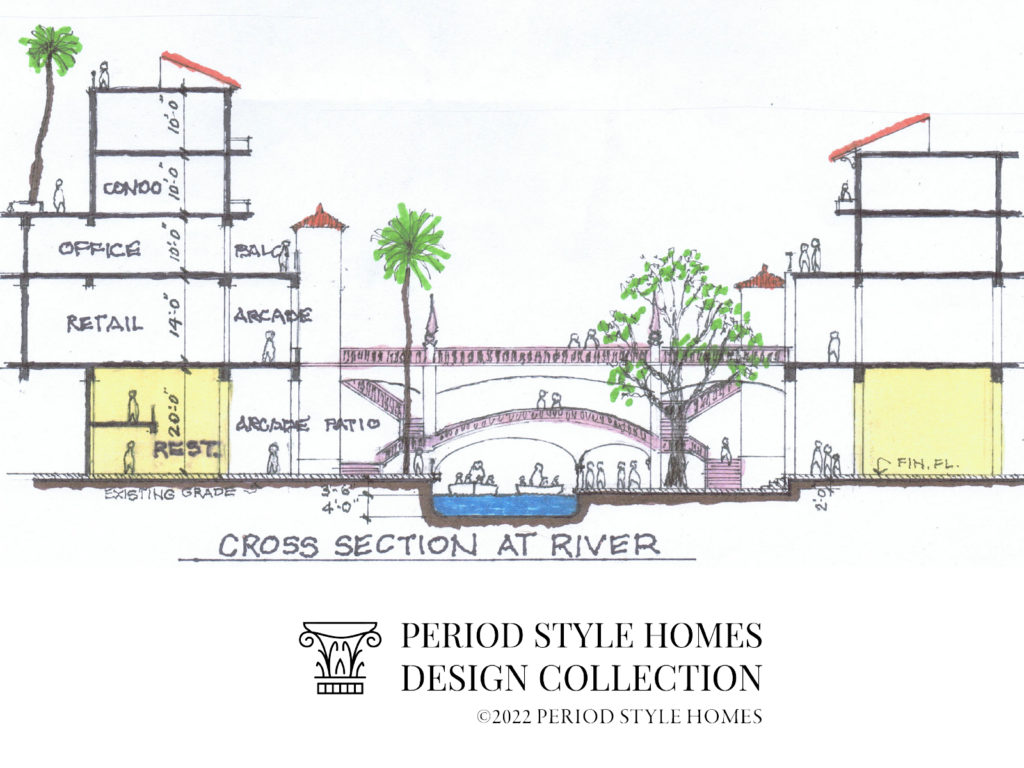 When reminiscing on the LaSienna project with Bud Lawrence, he was asked what the most challenging part of the project was. Bud stated, "It was challenging to make the man-made river look natural. We had to abandon the idea of a typical rectangular grid dictated by vehicle traffic. With a more organic shaped waterway, it also presented challenges with lines of sight and making sure as many residents as possible had water views." With over 75% of residents achieving water views, it is safe to say the team overcame this challenge. Interestingly, in locations where water views are not achievable, residents have beautiful courtyard views.
Lawrence's favorite element of the master plan is the center of the town square, where many beautiful public spaces reside. The outdoor amphitheater, public marina, public court, and place of worship provide an inviting environment for residents to enjoy events and experience the highest sense of community. This space is also easily accessible by foot for residents inside and outside the town center.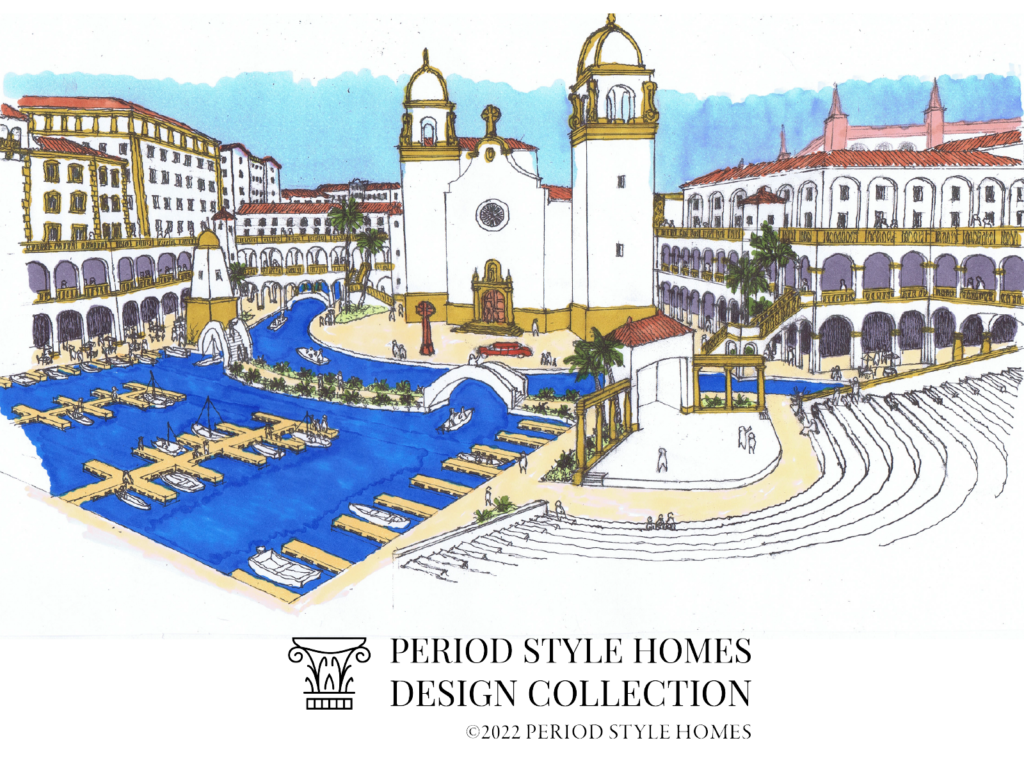 Achieving the Spanish Style
In addition to creating a traditional Spanish Style town center infused with courtyards, pedestrian alleyways, and arcades, the Period Style Homes team also provided architectural style guidelines. Providing these details ensures that the exterior facade remains consistent and authentic to the vision throughout the duration of the project. Details for columns, windows, balconies, roof finishes, doors, and fascia communicate what buyers and builders can expect. In addition, such details can easily convert to PUD guidelines for future reference and use.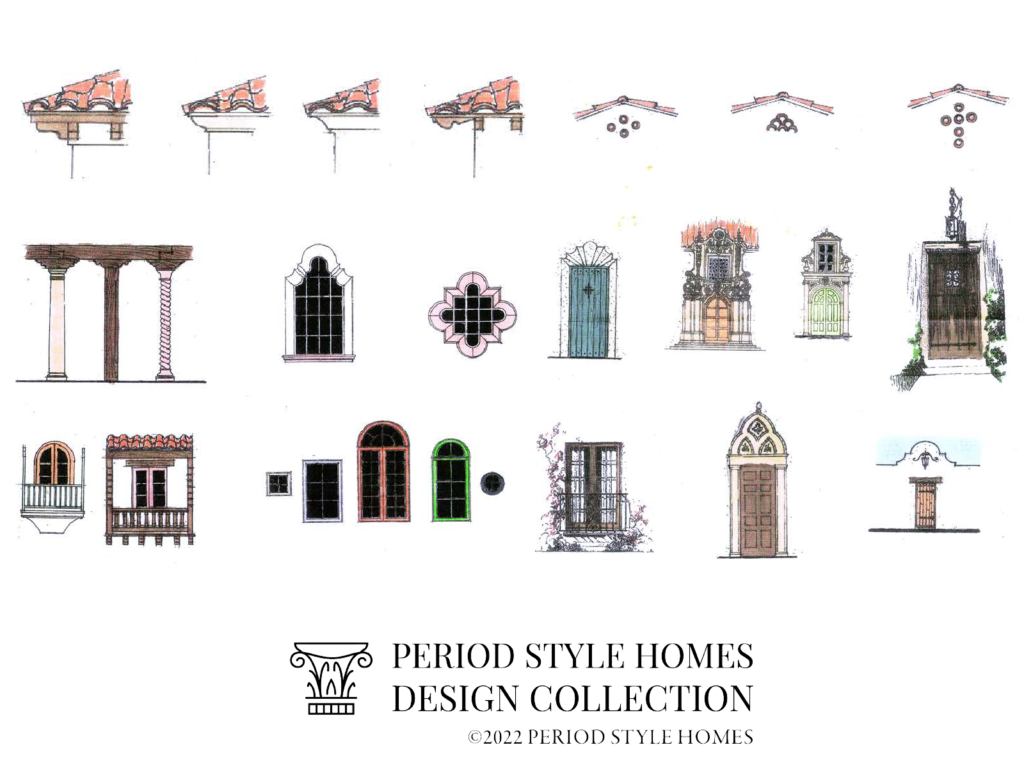 Old World Styles Meet Progressive Demands
More designers are looking to the past styles of Classicism to meet the demands of today's market. The LaSienna master plan contains the philosophies and approach used in the most progressive planning approach, New Urbanism. Elements inspired by style that meet current market demands include walkability, connectivity, increased density, town center models, diverse housing types, mixed-use, and sustainability. The approach not only provides what residents want in a community, but it is fiscally sustainable for the public sector and creates a higher return on investment for developers.
To learn more about our approach and why it is effective, check out Monta Media, here. The MCD + PSH alliance provides a host of benefits to our clients, future developers, and the communities we serve.  
Contact our team today to begin planning a community that will set you apart and leave a legacy.