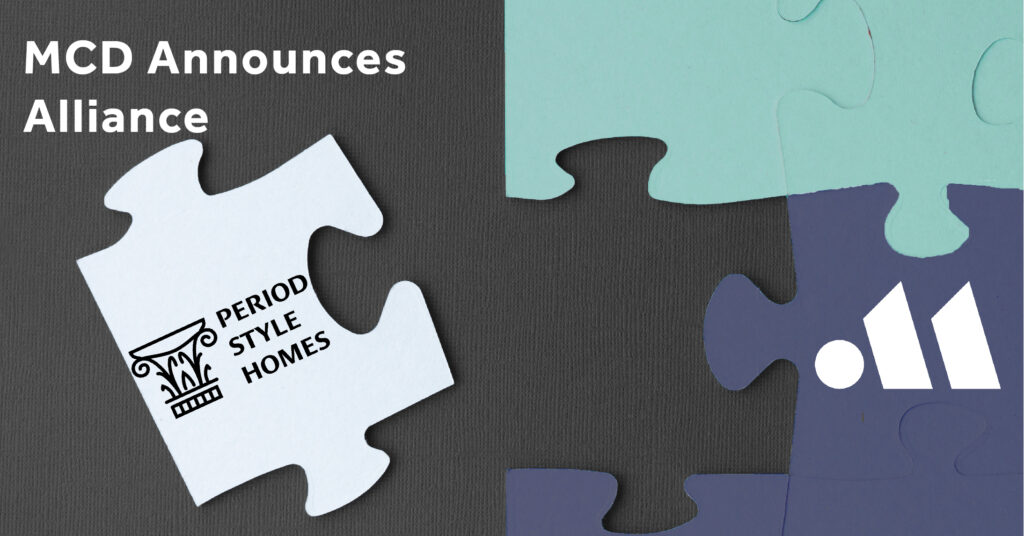 Monta Consulting & Design (MCD) is pleased to announce its recent alliance with Period Style Homes (PSH) and the resulting expansion of service offerings. MCD is extremely excited to feature the highly regarded plan catalog of Period Style Homes, which features classical and regional home styles that are both timeless and cost-effective. The alliance creates new opportunities for MCD's developer, builder, and homeowner clients alike. This article will detail several aspects of these expanded service offerings, and we will expound further on these developments in the following weeks and months.
About Period Style Homes
Period Style Homes founder, W.A. Lawrence, has been devoted to his craft of creating authentic and timeless home plan designs for over 50 years. Inspired by his passion for classical design, Lawrence's home designs cover over 40 regional styles, including Spanish, Italian, French, Dutch, British, and Greek Revival. The Period Style Homes Collection contains over 14,000 home plans, ranging all product types, from 60,000 ft2 estates to 400 ft2 tiny homes and accessory units. Designs in the Period Style Homes Collection have been featured in publications like the New York Times, Southern Living, and Better Homes & Gardens. Several homes have also received awards at the AIBD Nationals for "Best In Show" and "Designer's Choice." Apart from residential design, Period Style Homes has extensive experience in creating successful master-planned communities and will be contributing substantially to MCD's existing master planning services.
History of Monta Consulting & Design
Monta Consulting & Design (MCD) historically served national and regional builders with structural engineering services. For 30 years, the team has developed cost-efficient solutions for high-volume product lines. Approximately three years ago (early 2019), Owner Bill Ranieri committed himself to building something much more extensive by expanding services and market segments to create better solutions for builders, homeowners, and communities. These developments included adding a full spectrum of architectural and forensic engineering services. Today, the MCD team consists of licensed architects and engineers with licensure in over 30 states, equipping them to serve clients nationally.
An Alliance in the Making
This alliance is a natural progression of MCD's desire to positively impact local communities by providing quality housing. MCD's General Manager, John Thorne, has a nearly 20-year working relationship with W.A. Lawrence (founder of Period Style Homes) and is keen to bring these aligned values and service offerings to MCD's client base.
"The Period Style Homes plan catalog is unique for the beauty and livability of its homes. One facet that is particularly important to me is that it uses design methodologies that are typically reserved for luxury markets and makes them accessible for all product types, budgets, and lifestyles.," states Thorne. This is in keeping with MCD's Mission Statement and core values. MCD has made its mission to provide state-of-the-art engineering and construction solutions to its clientele. Offering the highest level of design by means of the Period Style Homes alliance is a further delivery on that commitment.
Benefits of the Alliance
Read below for benefits specific to developers, builders, and homeowners.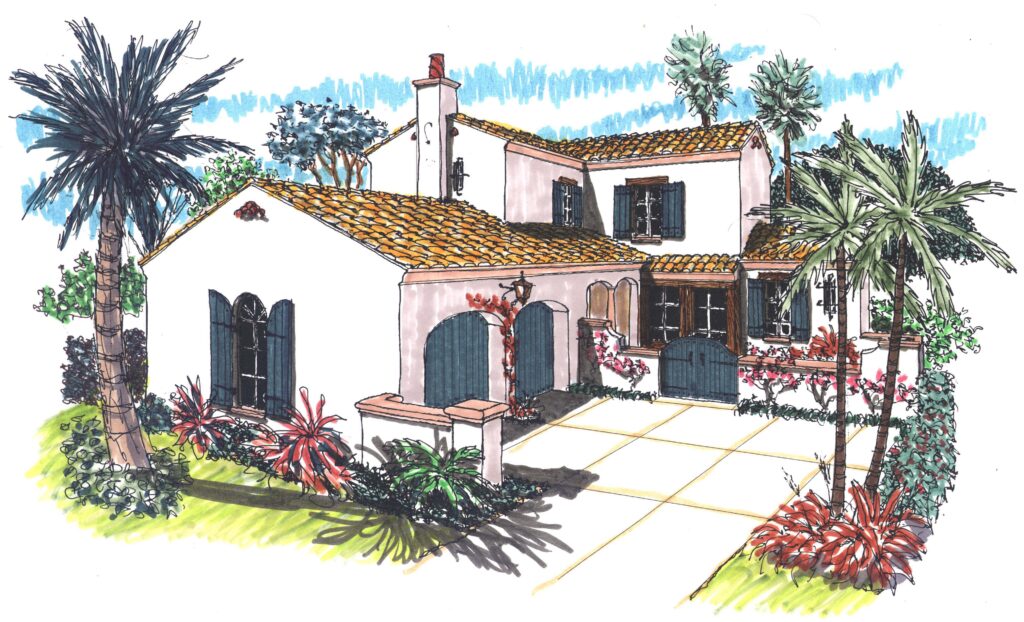 Developers
Developers can look forward to expanded Master Planning services. The PSH alliance provides access to Lawrence's expertise for new community and town center developments. Previous PSH master planning projects have resulted in significantly higher returns than competing communities and product lines. Click here to learn more about our expanded master planning process, philosophy, and portfolio; stay tuned for future articles on market analysis.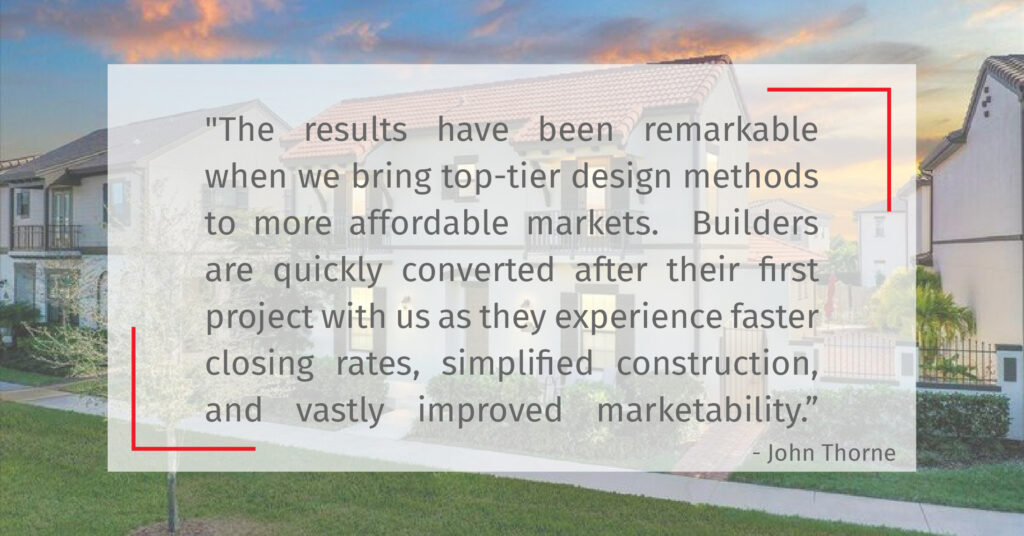 Builders
MCD's builder clientele will now have access to a suite of Product Line services. These include the development of entirely new product lines, troubleshooting existing product lines, and using designs from the PSH Collection to populate a community's product line.
Using a home design by W.A. Lawrence gives builders a competitive edge. Homes designed using authentic styles and classical proportions and massing have a number of advantages- from reduced engineering and construction costs, ease of construction, reduced construction timelines, and enhanced marketability.
In the coming months, MCD will be publishing a series of articles featuring case studies that highlight these advantages. First, to briefly state just one example: in one subdivision using Period Style Homes designs, a builder closed 360 homes in a single year and sold every home as a pre-construction sale. No fancy marketing was required, as the product matched the largely untapped appetite of the market.
"The results have been remarkable when we bring top-tier design methods to more affordable markets. Builders are quickly converted after their first project with us as they experience faster closing rates, simplified construction, and vastly improved marketability." -John Thorne
Homeowners
A curated plan selection from the Period Style Homes Collection of over 14,000 plans offers a solution for every lifestyle. To find your dream home, MCD's plan specialists will perform an in-depth discovery process to better understand your needs and wants for your home. MCD then curates a selection of plans to match the lifestyle you are looking to achieve.
Unlike many pre-designed plan or "stock plan" companies that provide an incomplete construction set with no engineered drawings, MCD facilitates the selection of a design and all modifications to the design, drafting, and structural engineering required for your full permit-set. Our team of experts is here to support your build through permitting and construction.
History has proven that homeowners who choose a plan from the Period Style Homes Collection prefer to stay in their homes and keep them for longer periods of time. The authentic regional-style homes are highly sought after and usually become family heirlooms or collector's items. As a result, homeowners typically experience significantly increased equity and resale value. If you are interested in learning more about this, please subscribe to our newsletter, in which future articles will detail specific case studies and market studies. 
Looking Forward with Period Style Homes
The MCD team is excited to share this news with you, and we've only scratched the surface in this article. Stay tuned for future articles highlighting more benefits of choosing a home from the Period Style Home Collection. Contact us and request a consultation today if you would like to take advantage of the MCD and PSH alliance benefits.