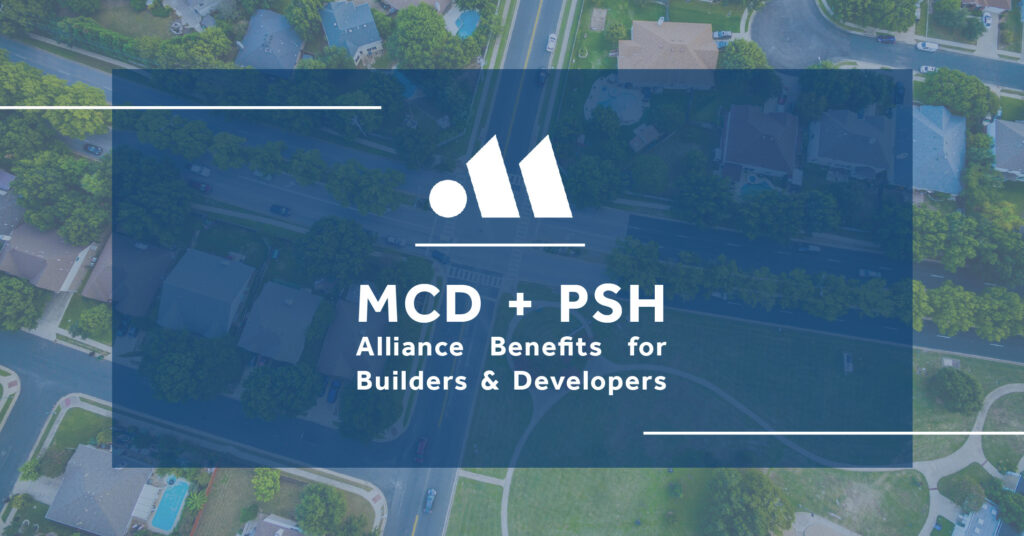 In last month's issue of Monta Media, Monta Consulting & Design (MCD) announced its alliance with Period Style homes (PSH). Our team is excited about the benefits of having direct access to world-renowned designer W.A. Lawrence and a plan library of over 14,000 homes. Most importantly, MCD looks forward to its benefits to our residential builder and developer clients.
What the Alliance Brings to the Table
The Period Style Homes Collection features a diverse array of floor plans and elevations ranging in size from 400 ft2 to 60,000ft2. Design styles include over 40 regional styles, including Spanish, Italian, French, Dutch, British, Colonial, and Greek Revival. Designs in the Period Style Homes Collection have been featured in publications like the New York Times, Southern Living, and Better Homes & Gardens. Several homes have also received awards at the AIBD Nationals for "Best In Show" and "Designer's Choice."
The alliance offers over 80 years of industry experience in master planning, residential design, structural engineering, and builder services. The newly integrated services will streamline the development of master plans and product lines, reducing costs and production time. Services also include troubleshooting existing projects and product lines that are not thriving in the market or causing high construction costs and increased field errors. Read more below about how choosing MCD benefits builders, developers, and homeowners alike.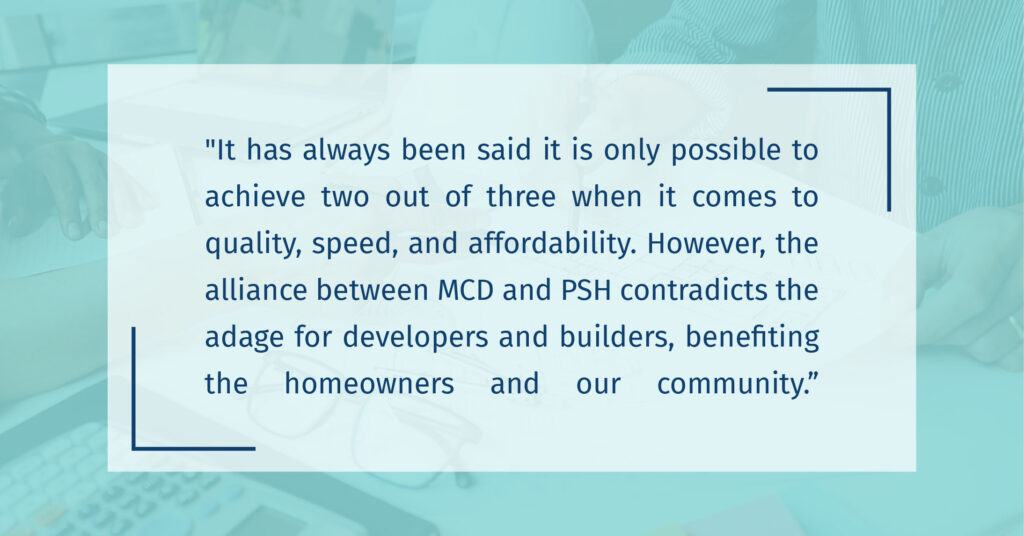 Developer & Builder Benefits
Our holistic approach and diverse skillset simplify the pre-construction process resulting in costs and time savings. Below are some of the specific ways builders and developers can expect to benefit from taking advantage of the MCD and PSH alliance:
Increased Density
MCD's expanded master planning services incorporate the principles of New Urbanism which promote the use of diverse product lines to maximize density and encourage economic sustainability. The existing Period Style Home Collection includes mixed product lines that include multi-family, duplexes, triplexes, quadplexes, accessory dwelling units, and single-family homes that directly support our master planning approach. Master planning services combined with product development ensure that builders and developers are able to maximize density to the fullest extent of zoning permissions.
Reduced Research & Development Expense
Decades of serving clients in planning, architecture, and structural engineering, benefit them by reducing research and development expenses. Our team is intentional about recognizing past results, staying educated on the market, and considering construction trends. Because of our knowledge and commitment to evolving with the market, MCD delivers the results developers and builders seek without numerous revisions. Minimizing redlines and plan rejections ultimately reduces the carrying cost for the developer or builder.
Reduction of Construction Cost
During the product planning phase, MCD's team of structural engineers provides a preliminary review known as "value engineering" to analyze the construction cost of the structure. Elements such as the foundation, walls, floor trusses, roof, columns, and beams equal about 70% of the total construction cost of a building, making the shell a primary budget category to reduce cost. It is most effective to complete this exercise during the planning phase to avoid costly re-designs and construction costs. After the design is finalized, the engineering team provides exact calculations to determine if there are any further cost savings.
Decreased Turnaround Time
Once the planning phase is complete, the MCD team continues to manage the client's plan library to produce efficient construction documents. Our plans management service significantly reduces sale to permit turnaround times. MCD can also provide additional efficiencies through electronic sealing and master plan permitting when the jurisdiction allows. The plans management service is what MCD is known for and how it has built its reputation amongst national and regional builders and developers.
Simplified Construction Process
Proper pre-construction planning that considers costs result in designs that simplify construction. For example, special considerations are made in the design phase for streamlining the massing and form to reduce structural tension. Massing considerations make installation easier and safer for tradespeople during construction.
Enhanced Marketability
The world-renowned Period Style Homes Collection combined with the production experience of MCD will enhance marketability. Past performance indicates that the Period Style Homes Collection generates at least a significantly higher market rate than comparable homes. In some scenarios, homes reportedly resulted in market rates that were 40% higher than comparables. As a result of the alliance, builders and developers can now offer buyers superior designs without sacrificing their bottom line.
Higher Return on Investment
The benefits mentioned above work in tandem to provide a higher return on investment for developers, builders, and homeowners. Essentially the developer and builder are able to multiply their cost savings with proper pre-construction design and construction simplification. Although the design and planning phase creates efficiencies, it doesn't impede delivering a superior product to the market for a premium price.
It has always been said it is only possible to achieve two out of three when it comes to quality, speed, and affordability. However, the alliance between MCD and PSH contradicts the adage for developers and builders, benefiting the homeowners and our community. If you are looking for a design team that understands construction applications and the financial outcomes of development, contact one of our experts today