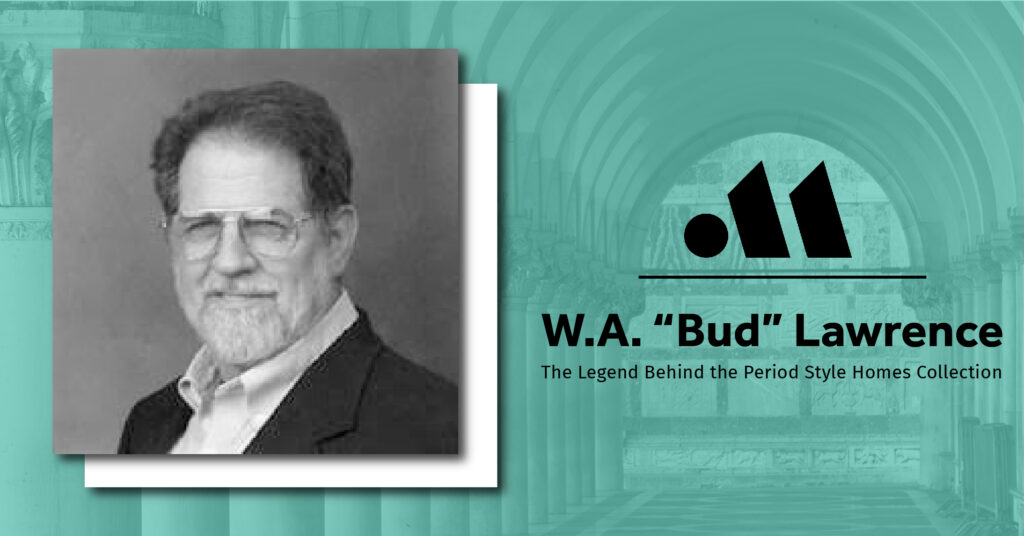 Monta Consulting & Design is now featuring the Period Style Homes Collection, highlighting the designs of W.A. Lawrence. Over his 50+ year career, Lawrence has impacted the design industry and transformed the lives of families throughout the United States. For decades he has advocated for advancements in both residential home design and master-planned communities, advancements that are more pertinent to the industry now than ever. MCD is honored to feature his body of work and offer his design talents to our current and future clients.
Education
Bud Lawrence was born and raised in Louisiana. In the 10th grade, he discovered his passion for drawing houses in an art class, where he decided to pursue a career in architecture. Lawrence attended Louisiana State University to study architecture but took a detour for a few years to follow his passion for ROTC and serve his country. After returning from his duties, he continued his education in architecture at LSU.
Growing up in Louisiana exposed young Lawrence to the Creole design style infused with classic design influences such as French, Spanish, and Caribbean. After taking a course in Architectural History, he voiced that he wanted to pursue the classical design principles that his community was founded upon, but instructors wouldn't allow it. In the era after World War II, the industrial revolution exerted a strong influence on the housing market as nations rebuilt- resulting in a departure from centuries of architectural progress. During that time, there was an abandonment of classical methods and techniques and a push for modernism in design, which required fewer skilled trades, hence the near demise of classical design in the 1930s.
Early Career
After Lawrence finished his studies, he began working with local builders who constructed tract homes according to the principles of modernism. The work left him wondering what would happen to these cookie-cutter homes in 50 years. Would they leave a legacy or merely be demolished once they were no longer new? Lawrence stated, "I felt like I was part of the problem by continuing to design this way." As he sought a better solution, he discovered the work of local architect A. Hays Towns.
A. Hays Town is a world-renowned architect known for his residential design masterpieces in Louisiana. His style blended Colonial, Spanish, and French styles that incorporated the Creole lifestyle. The style was eventually named after him and is now known as the A. Hays Town style. Inspired by his use of classical design, Lawrence developed a working relationship with Mr. Town. The market demand was so great for design that followed authentic classical principles, that Mr. Town's waiting list for clients was more than two years long. This resulted in Mr. Town often referring work to Lawrence, a clear vote of confidence on his part. Lawrence even designed the home of Mr. Town's daughter.
Making Classical Design Accessible
Although Lawrence enjoyed working with classical styles on luxury homes, he wanted to make this level of beauty available to homes large and small. A local builder contacted him to develop townhomes, and Lawrence encouraged him to use the A. Hays Town design style. The builder was hesitant at first because he believed he would price himself out of the market. However, Lawrence convinced him to buy the most cost-effective land to make the numbers work. The builder ended up pre-selling every unit in the community and was able to build over 360 units in one year! Needless to say, the builder's initial hesitancy had turned into complete confidence as the market demonstrated their love for this type of product.
Commitment to Classical Design
During the recession in the 1980s, Lawrence relocated to Florida. His first design in Florida was a Spanish-style estate home. After completion, he gained a reputation for his ability to design according to historical and classical styles. Then, a builder approached him about creating a community of Old Florida Style homes equipped with large porches, dormers, and metal roofs. After success in this community, Lawrence decided to rename his firm Period Style Homes and primarily focused on classical design principles from that point forward.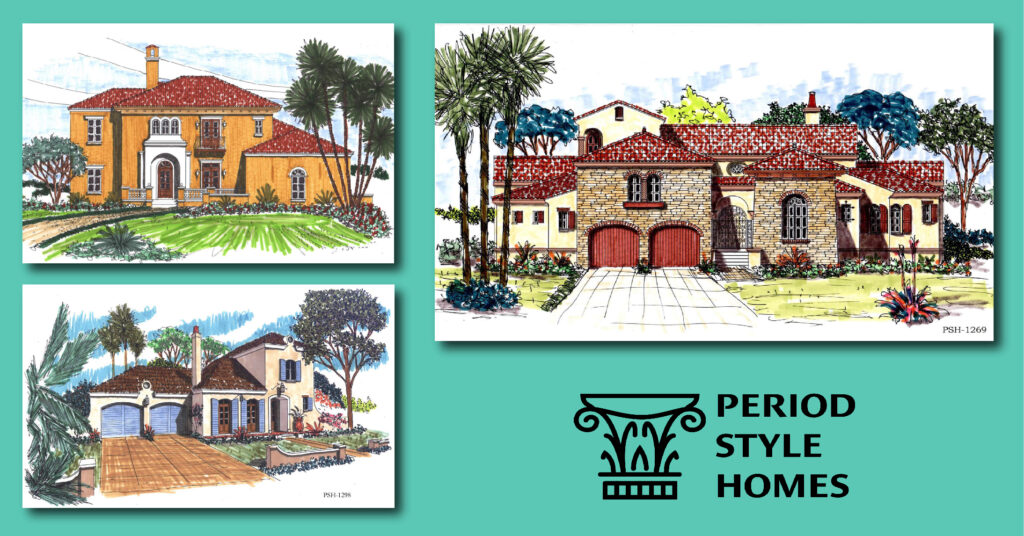 In 2002 Lawrence became acquainted with The Institute of Classical Architecture and Art (ICAA) in New York. Naturally, he was eager to enroll and begin studying the same principles Mr. Town learned in the 1920s. Eventually, he finished every course offered by the ICAA and learned the "language of architecture" that had been mostly lost post-WWII.
Lawrence traveled throughout Europe, including England, Spain, Italy, France, and Germany to expand upon his studies. He desired to study classic architecture in its original form and the cultures that shaped it. The experience fueled his passion, inspiring him to advocate for classical design in the United States. .
Advocacy
After completing his international studies, Lawrence convinced the ICAA to conduct courses in the state of Florida. The first event was a success and attracted over 100 industry professionals to further their education in classical design. Due to the increased interest, Lawrence hosted and taught several more courses throughout the United States in the mid-2000s. 
As the resurgence of classical residential design continued, architect and urban planner Andres Duany started a movement to bring back a classical approach to urban design and master planning. The movement is now known as the Congress for New Urbanism. Lawrence and Duany collaborated to ensure that classicism could be applied to entire communities holistically. Lawrence's role was to provide residential design by classically trained members of the American Institute of Building Design (AIBD), an organization where he held a board position.
The Urban Guild
As the relationship between Duany and Lawrence progressed, so did Lawrence's interest in master planning. As a result, he was offered membership in the  Urban Guild, where he would continue to advocate for the principles of New Urbanism. Lawrence has hosted design charrettes for various master planning projects, working alongside other advocates of New Urbanism, such as architects Steve Mouzon and Geoffery Mouen.
When Lawrence was asked about what continues to fuel his passion for the principles of New Urbanism, he stated, "We have been forced to separate the essential functions of life through zoning regulations. That is not the way we naturally developed as a society. It has forced us to rely on a vehicle for everything and reduces unique and shared community experiences. I want to see a resurgence of the lifestyles found in the French Quarters, Savannah, and other town center models." Lawrence believes that New Urbanist communities will give people access to the lifestyle they aspire to, help restore the health and wellness of our nation, and provide aesthetically pleasing places for people to gather. A return to beauty is ultimately a return to community.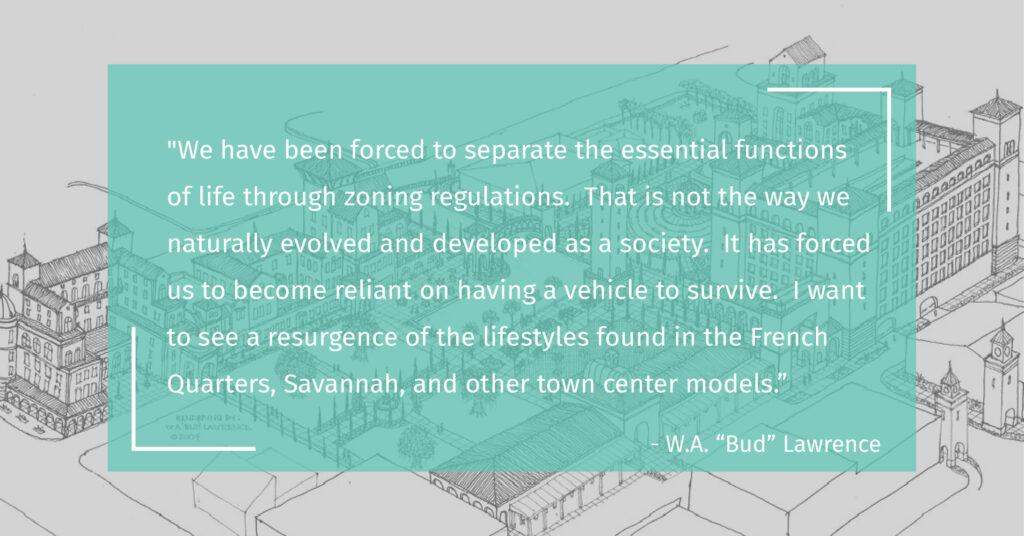 The Period Style Homes Collection
Lawrence has proven throughout his career that a return to classic design principles fulfills the expectations and dreams of most homeowners. Abandoning the modernist influences of post-WWII creates improved community experiences, desirable places to live and work, and homes that are sanctuaries and social hubs for families and friends.
Over his 50+ years of industry experience, Lawrence has created a portfolio with over 14,000 home plans ranging from 400ft2 to 60,000ft2, with over 40 authentic traditional & regional styles, including Spanish, Italian, French, Dutch, British, Colonial, and Greek Revival. In addition to his nationally recognized residential design, is his work in a variety of community and town center master planning projects. All of this makes the Period Style Homes Collection one of the most substantive bodies of work in existence.
MCD is proud to feature the Period Style Homes Collection and offer the expanded design services of W.A. Lawrence. This opens an array of exciting opportunities for our clients. Contact our design team today if you are interested in building your own beautifully designed home or community.