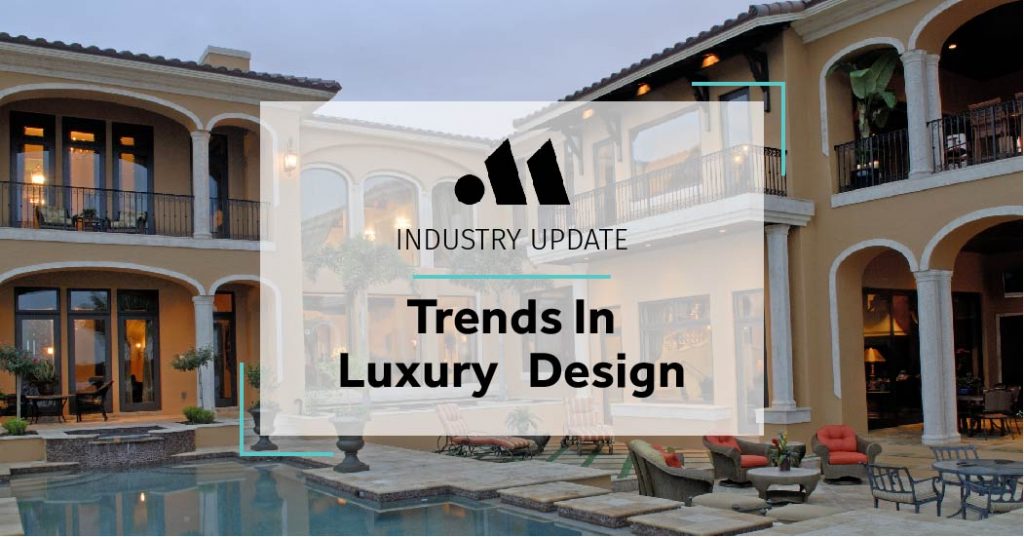 Monta Consulting & Design is dedicated to keeping you informed and updated on all the latest trends and influences that impact the luxury design market. Our team consists of multi-disciplinary experts licensed in over 25 states and has served homeowners with their dreams for 28 years. MCD is well equipped to help you design a timeless estate with modern amenities and comfort.
Market Statistics
Compared to the end of 2019, the industry has witnessed some changes in the luxury home market. The COVID-19 pandemic introduced unforeseen changes in lifestyle due to mandatory quarantines which transformed our housing needs. According to a contributor of Forbes, Liz Frazier, "U.S. luxury home sales surged 60.7% year over year during the three months ending Nov. 30, the biggest jump since at least 2013". This jump nearly quadrupled the speculated growth.
The demographic that contributed most to the growth of the luxury home market was Generation X, followed closely by Millennials. Generation X was responsible for 20 % of luxury real estate transactions in 2020. The remaining luxury market consisted of 18% Millennial buyers and 15% Baby Boomer buyers. This generational lead shows the rise of younger luxury home buyers as opposed to those aged 55-73 years old who are transitioning to smaller properties. The graphs below display the trends according to size and price by age range and provide insight from the full NARS report.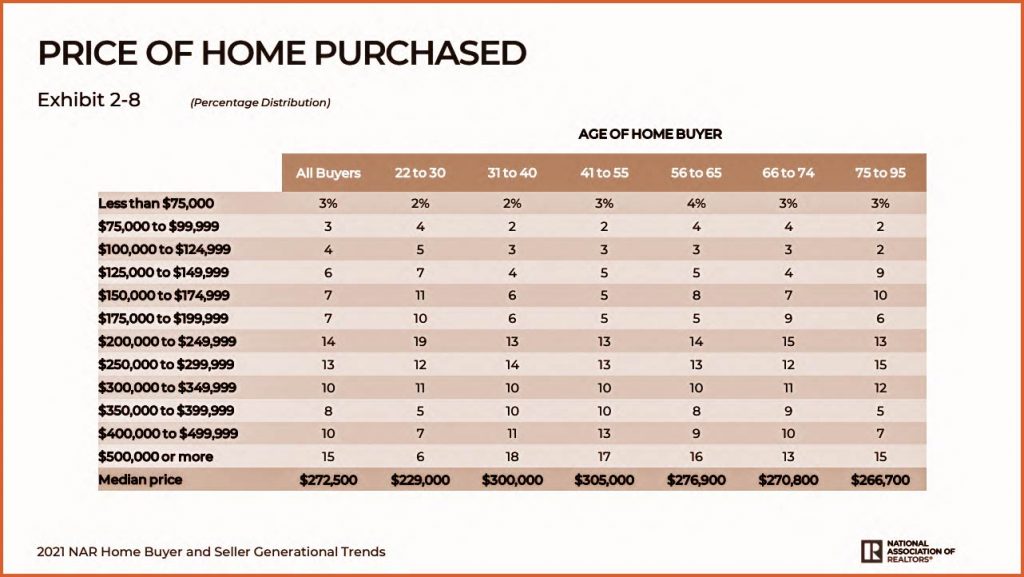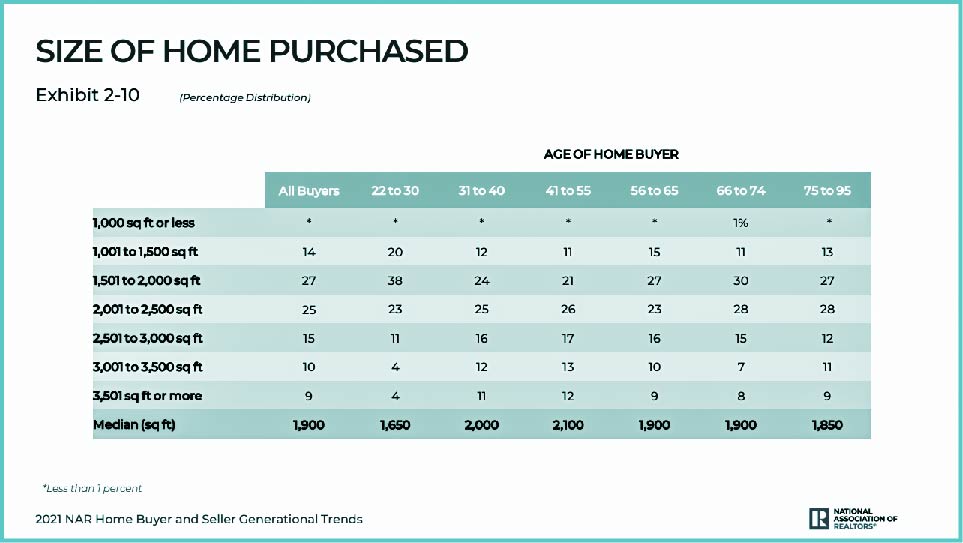 Resulting Trends in Luxury Design
Experts speculate that the changes in lifestyle and work structures caused by the pandemic will be permanent, forever changing way we design homes. Current observations find that the most significant contributing factor to the demand for larger floor plans was the number of homeowners working from home. In addition, the pandemic kept the population indoors, and a resurgence in biophilic design, known as "bringing the outside in," is on the rise. Elements such as double volume ceilings, seamless picture windows, concealed sliding doors, aesthetically pleasing outdoor landscapes are often incorporated into luxury homes to achieve this type of design. The use of transparent partitions allows accessibility and gives the homeowner the flexibility to divide space or keep the area open.
Due to the rise of younger buyers, there is a popular trend for more vertical floor plans versus sprawling floor plans. This contrast is being drastically shaped by the millennial. Their tastes support designs that are far more functional than the typical sprawling mansions, with every house being unique. Lifestyle preferences are also different in that millennials prefer less maintenance in their approach and a desire to be close to urban amenities, which forces the need to go vertical.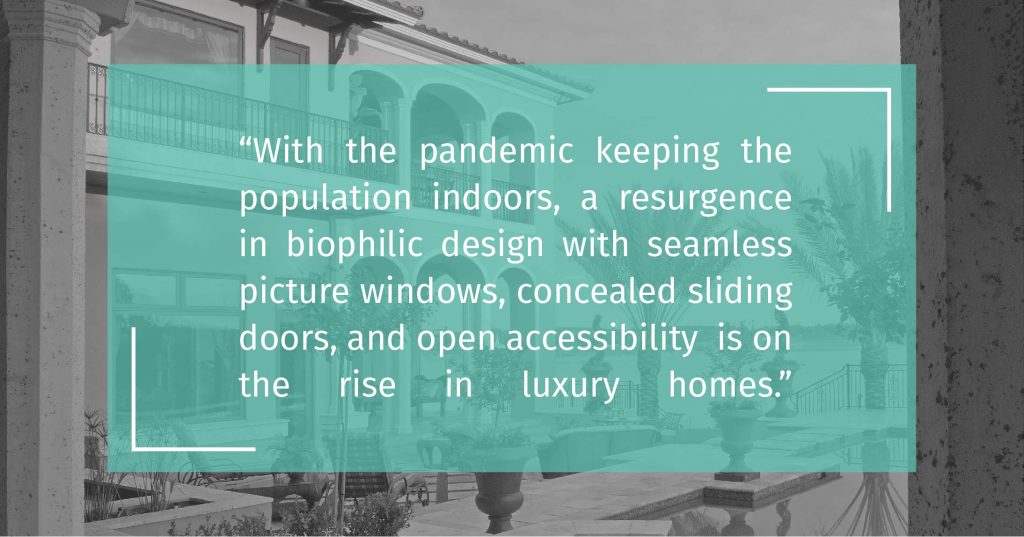 The younger buyer is also passionate about preserving the future environment and is dedicated to choosing more eco-friendly solutions. Hernando Gomez, our Principal Architect, is a leader in eco-conscious and luxury design. Developing homes and attractions located next to Fray Jorge Ecological Park in Chile, Hernando kept a high level of awareness in eco-friendly practices due to national park and oceanfront exposure. His portfolio consists of many successful luxury designs constructed with environmental preservation in mind. We are grateful for his role in leading our team to success with these intricate and unique projects.
MCD as a Solution
The MCD team has a strong grasp of navigating trends and market demands in architectural design. Our holistic approach results in a multifaceted understanding of design and delivers results that give life to our client's dreams. We believe our past work speaks for our present ability and encourage you to view our portfolio for luxury housing. If you would like to start designing your dream today, contact us for a free consultation or follow us for more inspiration.