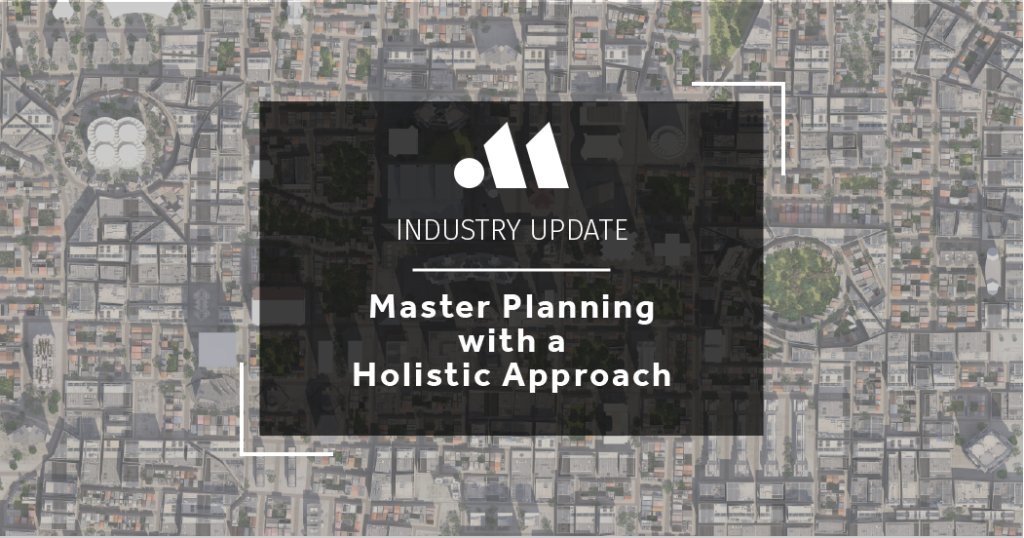 Monta Consulting & Design continuously observes the dynamic nature of community living and the design trends that shape our society. These observations result in master planning results that benefit the resident, community, and developer. Today's master planning techniques and philosophies are influenced by various people and principles that lead to a more sustainable and economically viable future. Learn more below about how our holistic approach fulfills the demands for a thriving community.
Influencing Factors
Residents
Since the beginning of time, community residents have shaped the layout of cities and towns to serve their basic needs. Over time those needs evolved from land to grow food to mercantile areas to conduct trade. Today, the desires of the "residents" are more complex; let's take a look at what today's consumer looks for when choosing a community:
Safety
Accessibility & transportation for fast commute times
A return to pedestrian friendly spaces
Diverse local economy for competitive career opportunities
Variety in housing options
An affordable cost of living
Businesses
Another influential factor to the design and success of a community is businesses. Centuries ago, businesses shared space in residential corridors, allowing them to grow organically and according to local demand. However, as time progressed, zoning uses became segmented and divided by their purpose, forming what we know as "business districts." Interestingly, we are witnessing a resurgence of a more organic growth model promoting mixed-uses to meet the demands of residents. As you will see below, many of the qualities residents look for in a community are the same as business owners:
Safety
Transporation for customer and supply access
Healthy local economy with options for suppliers and laborers
Variety of commercial space
Affordability and tax incentives
Municipalities
Lastly, the local governing authority can control the success of a community through zoning and codes. Typically, the public entity holds the same interests as their tax base: the residents and the businesses. By cultivating the success of those groups, it will help accomplish their goals which are:
Growing the tax base
Reducing infrastructure and maintenance costs
Reducing liability and litigation
Economic Development
Master Planning Solutions for the Entire Community
The needs and success of a community are intertwined. Therefore, master planning solutions must be multi-faceted and all-encompassing. Below are the most essential principles of the New Urbanism philosophy that our team at MCD uses in our master planning services.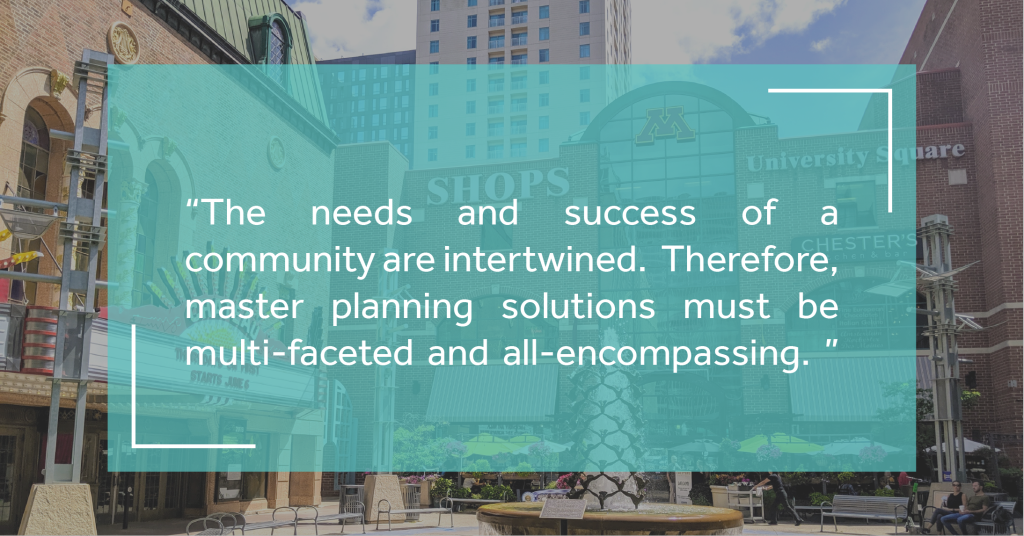 Increasing Density
Master-planned communities allow for a creative and engaging mix of product types and densities. This not only allows developers more attractive unit-counts but provides a much more desirable community experience for residents and patrons. The increase marketability is a clear win for developers and homeowners alike. Increased density in a residential district can aid a neighborhood by providing increased accessibility and environmental sustainability. In addition, it is a sensible alternative to suburban sprawl, which increases infrastructure costs and commute times. 
Achieving higher densities does not mean that vertical construction is necessary. Other ways to achieve higher density besides going vertical are utilizing accessory dwelling units or designing single-family homes with a smaller footprint. Combining these options provides diverse housing options that residents need.
An ADU or accessory dwelling unit is an apartment built over the garage, a small housing unit in the backyard, or a basement apartment. Regardless of structural form, it remains the same property as the main home. The flexible nature of an ADU provides additional space for an added family member or tenant. In addition, it can help an aging community by combatting problematic finances and inaccessibility.  These types of "multi-gen" considerations are extremely important in today's society.
Single-family homes are still highly sought after in the market, and historically they required a significant amount of land. Alternatives to traditional half-acre lots are a quarter acre or even smaller lots. Products developed for this concept are typically a 20'or 30′ product with zero lot lines. The way to mitigate the loss of a traditional backyard is to provide shared green space with superior amenities such as community gardens, parks, trails, and more.
Mixed-Used Development
Mixed-use development is a practice of master planning that provides more than one use or purpose within a shared building or parcel of land. This concept combines housing, commercial, and recreational needs through shared infrastructure. In addition, mixed-use development is focused heavily on pragmatic design. The design is critical to the function of a community, as intentionally sized and shaped neighborhood buildings sit organized to establish character and encourage communal traffic and commerce.
A successful mixed-use development typically includes at least three revenue streams. Revenue streams are usually any combination of residential, office, retail, entertainment, hotel, or recreational. Industrial and agricultural are not a part of the traditional mixed-use design; however, there is a movement to include more agriculture through an emerging agri-tourism industry. The community must also integrate maximized density between the uses and be compatible with land use. Lastly, it must contain continuous pedestrian connections encouraging walkability.
New Urbanists believe master planning with these strategies reduces population congestion and suburban sprawl, mitigating an uncontrolled expansion of urban areas. The result creates unique residencies where people can live, work, and play. In addition, the multi-faceted design approach allows residents to accomplish everyday tasks within a single neighborhood.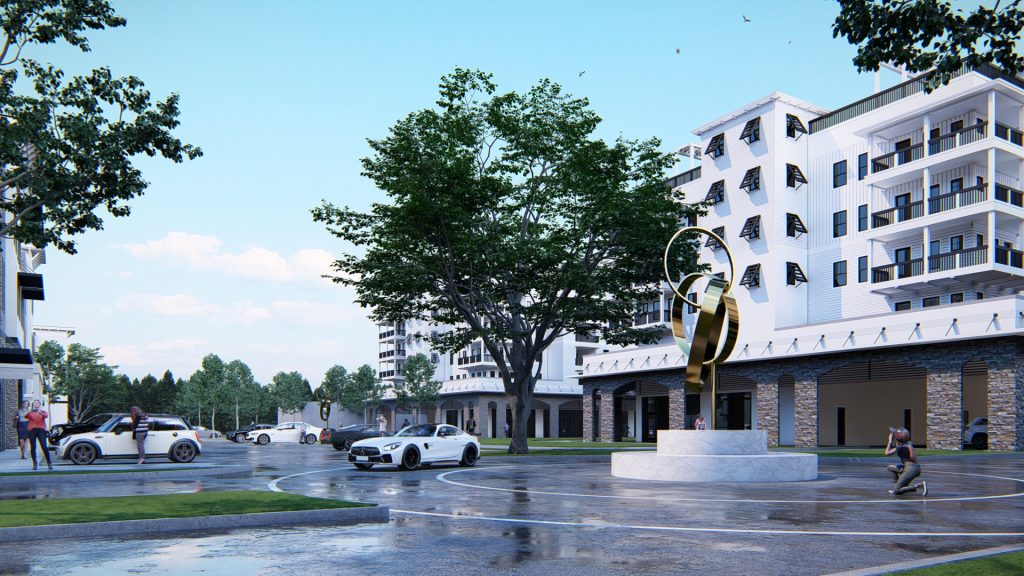 Connectivity
A crucial principle in successful planning is the connectivity of roadways, sidewalks, bike paths, and public transportation. New planning methods incorporate more sidewalks and bike paths than in the past to encourage other modes of transportation. The result is a decrease in traffic congestion and a reduction in the cost of infrastructure development and maintenance.
When designing transportation infrastructure, considerations for safety and usability are made. The connectivity of multiple transportation methods increases an individual's likelihood of using the infrastructure. Combining several types of transportation causes an increased concern for pedestrian and cyclist safety. Design elements such as roundabouts, bike lanes, and pedestrian bridges encourage safer travel.
Green Design
An eco-district is a form of planning that integrates sustainable living goals to reduce the ecological footprint of a neighborhood or urban region—eco-districts fuse sustainable development principles with suburban planning, such as water conservation and alternative energy. Although it is not an official principle of New Urbanism, this form of design is popular amongst developers. Strategic master planning utilizes designated green spaces to benefit communities as a whole. These green spaces can successfully make a neighborhood less vulnerable to climate and health risks.
Other benefits of shared green spaces lower local temperatures, improve air quality, and reduce risk of flooding. Measurable results in past observations show increased community involvement and restoration of plant biodiversity. According to MCD's previous studies, 61% of investors believe that sustainability leads to market differentiation and improved financial performance.
Benefits of New Urbanism
There are many benefits of a New Urbanism approach to design. The health score of these communities is typically higher due to the walkability and the reduction of stress by conveniently having everyday amenities nearby. In addition, the higher densities allow for more conservationism and reduce the costs of infrastructure installation and maintenance. Finally, the design philosophy allows for a more diverse and mixed society essential for a balanced local economy. As we progress with the live, work, play model, we look forward to the sustainable benefits that society will experience in the future.
MCD for Community Master Planning
Monta Consulting & Design continues to observe and recognize the importance of the dynamic nature of community living and the design trends that shape it. With mixed-use development, green eco-districts, connectivity, and increasing density, our future holds a more environmentally and financially viable solution to the obstacles we face today.
Contact us now to help design the future of your community.