MCD Project Spotlight
Certex USA
Certex USA
Certex is a national distributor and fabricator for rigging supplies and lifting devices. Products supplied include hoists, cargo control items, and wire rope for heavy equipment. The client opted for a metal building with a stucco facade on the front elevation to house their new warehouse and professional office space. Monta Consulting & Design provided structural engineering for their industrial design in Orlando, Florida.
Advantages of metal buildings include flexibility in space planning, allowing for a combination of operations under one roof. In addition, construction costs can be reduced by up to 60% compared to traditional methods. Lastly, they result in shorter construction times and are easy to maintain in the future.
The total square footage for this new facility is 22,100 square feet with approximately 3,800 square feet of professional office space and 18,000 square feet of warehouse space. The largest open span of the building is 100 feet reinforced with columns for lateral support. Each column is designed with a deep grade beam and anchor bolts to withstand 150 mph winds and sustain the harsh Florida weather.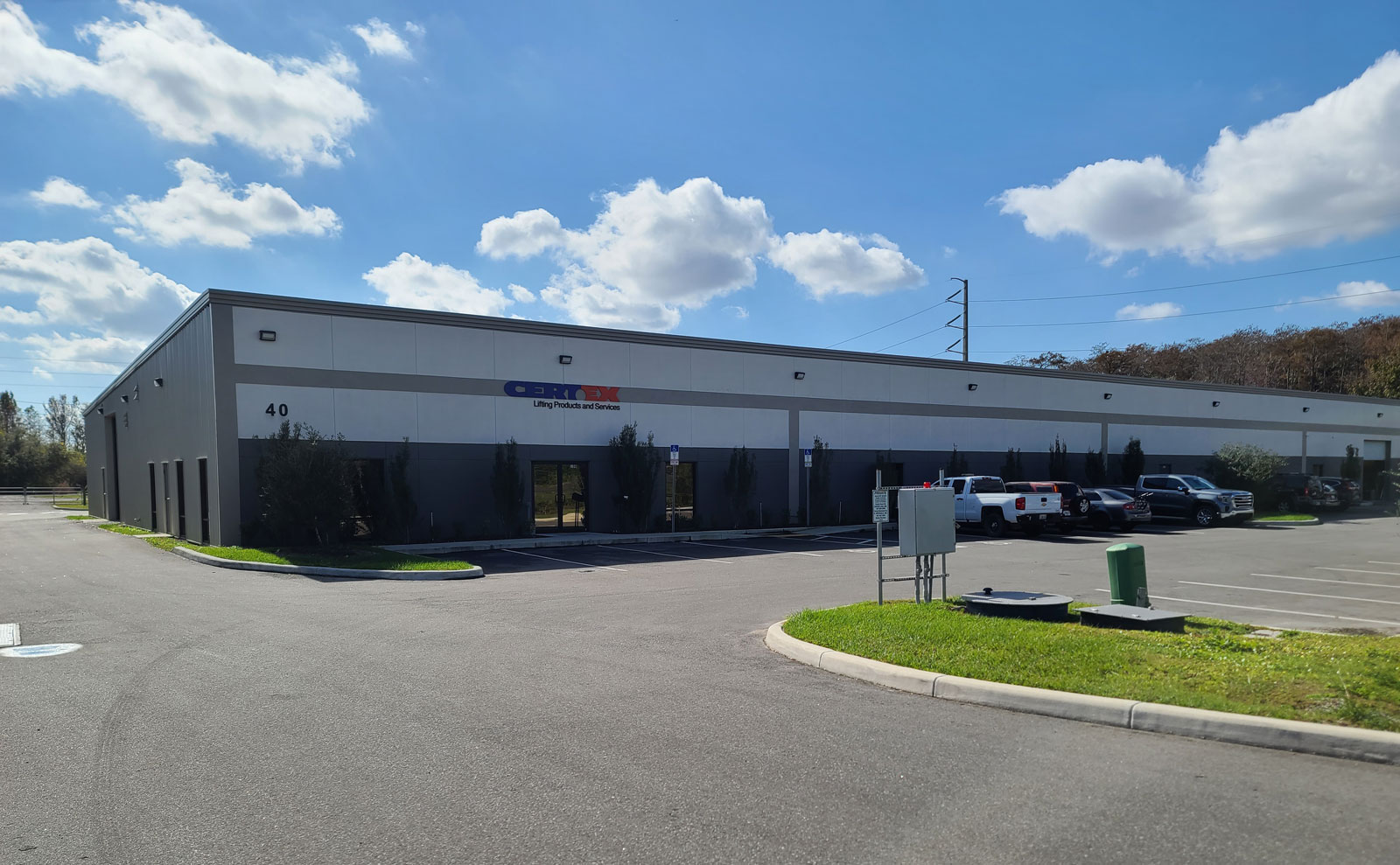 For the interior space of this project, the professional area includes a reception space, private offices, a break room, and a formal conference room. The finished interior space required a tenant separation wall rated for two hours that provided a seal to the roof. Additionally, the door facing the warehouse's interior required a fire rating of one and a half hours. Other interior finishes included a Class A drop ceiling with acoustical insulation providing a sound barrier from the warehouse.
The warehouse contains several entrances from the office space and the exterior yard and driveway. Bay doors are 14'x14' and include an 8" slope into the slab to avoid damage from vehicles and forklifts. The foundation design called for a 5" slab reinforced with wire mesh to prevent damage from other heavy equipment throughout the facility. In addition, the building height of 20' allowed the client to maximize storage space for storing inventory with a smaller footprint.
Monta Consulting & Design successfully coordinated with the metal building fabricator and delivered structural engineering for the client. The design resulted in and time and cost savings, allowing the client to begin operations much faster than typical construction. If you are looking for an innovative team for your next industrial or metal building project, contact our team today!
---
ABOUT MCD