MCD Project Spotlight
Lake Nona Townhomes, ORL
Lake Nona Townhomes, ORL
This Lake Nona Townhome segment is in Orlando, Florida, known as The City Beautiful. This location provides a lakeside view, only a moments' walk from the peaceful Inspiration Bench Park. The community also offers plenty of nearby amenities beneficial for health and wellness, such as the nearby LP Fit gym or the Laureate Park Aquatic Center.
Monta Consulting & Design provided structural engineering for this Laureate Park community. Our team succeeded in delivering a multi-family product that maximized density for the small parcel. There are four buildings total consisting of two building types and three-unit types. The variety in unit styles offered 1,281 to 1,589 square feet of living space, two to two and a half bathrooms, and a one or two-car garage.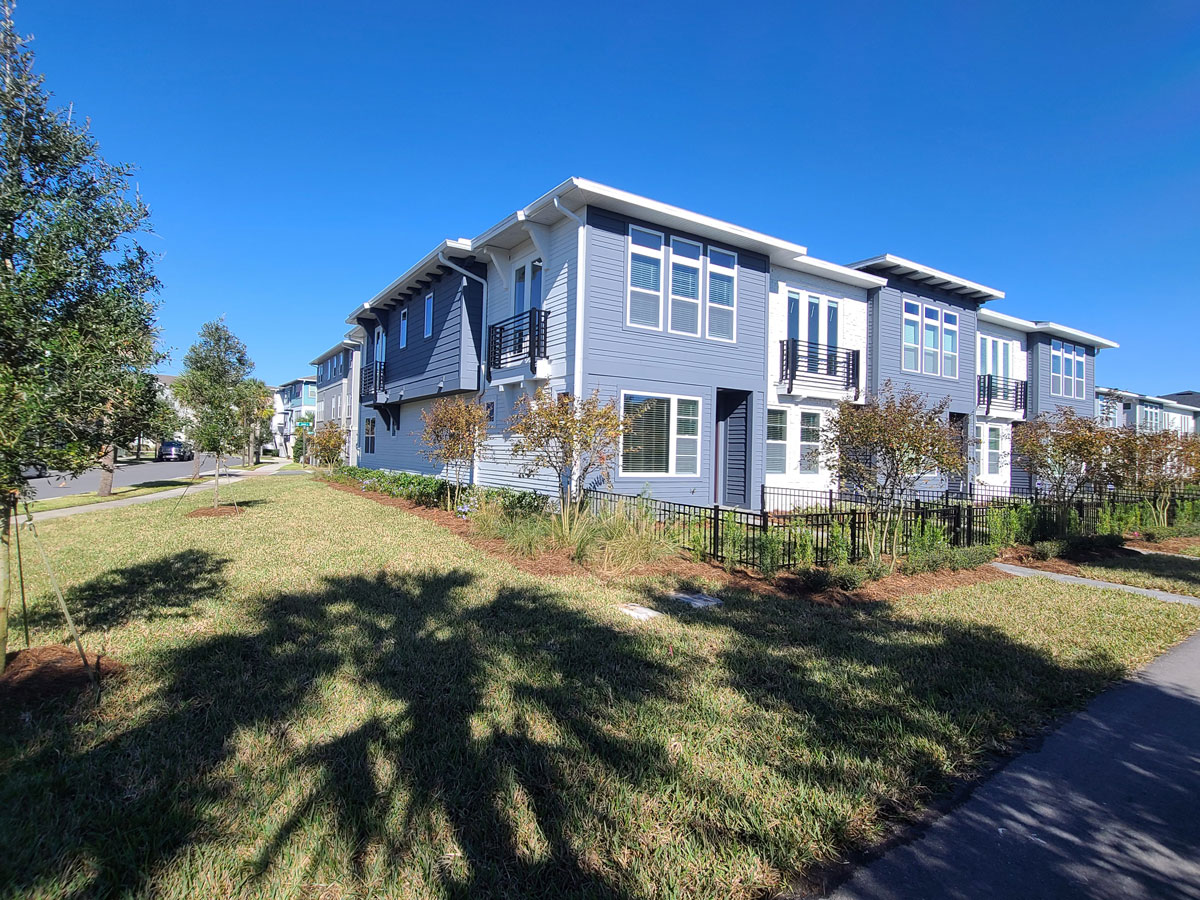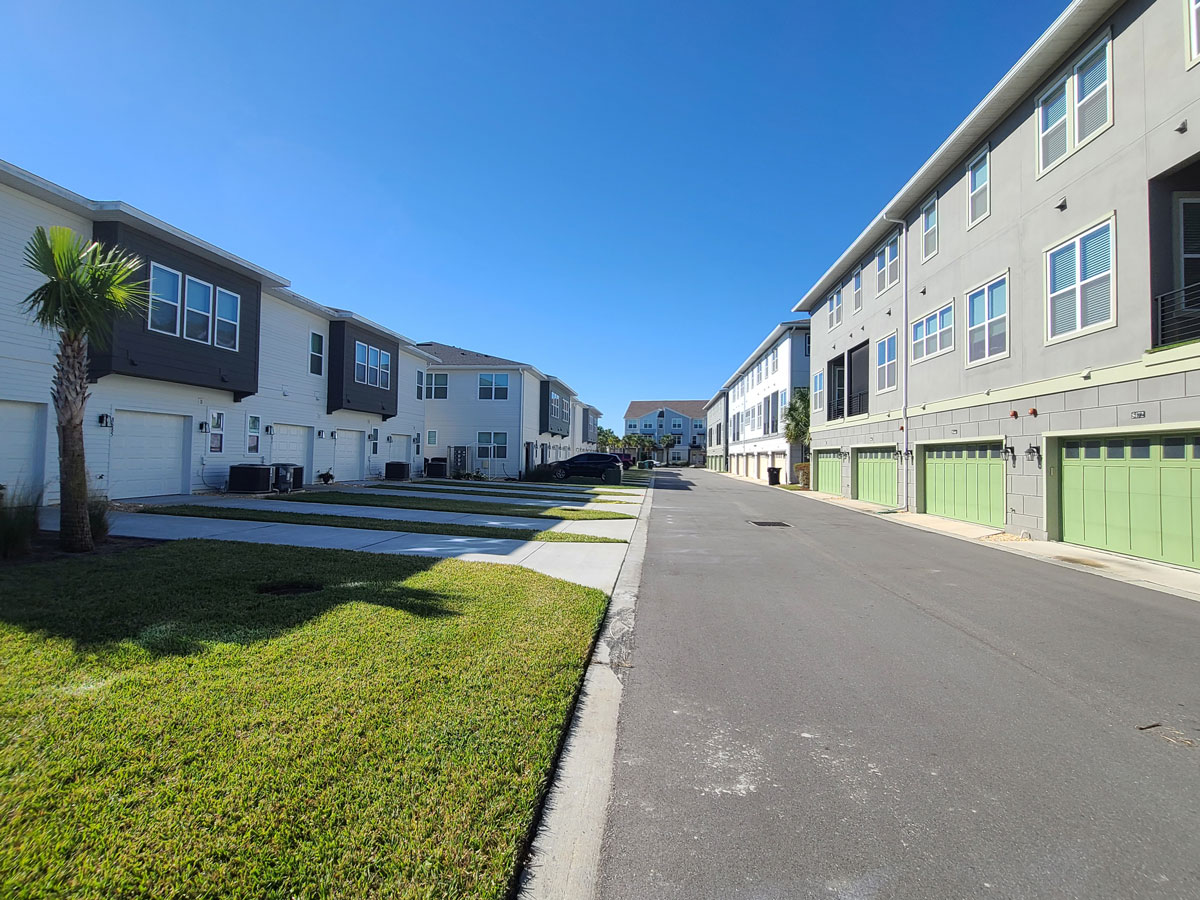 One of the biggest engineering challenges Monta Consulting & Design faced with the Lake Nona Townhomes was the long but narrow unit footprints of 16 feet in width. Specifically, areas with open spaces such as the garage required a shearwall design to support the two-story structure. Shearwall is a faster and more economical solution for wood-framed construction. In addition, it successfully optimized the design and sped up the construction timeline while providing desired resistance against lateral forces of any potential wind or seismic activity.
The construction method also utilized a QuickTie system. This building system attaches to the structural foundation with a mechanical anchor attachment and connects back down to the foundation with a lumber sole plate into the concrete slab. A single QuickTie installed between these regions serves adequately as a hold-down for any shearwall instead of traditional tie-downs. QuickTie also reduces the number of filled cells needed and is preferred by builders throughout the southeast region for cost savings.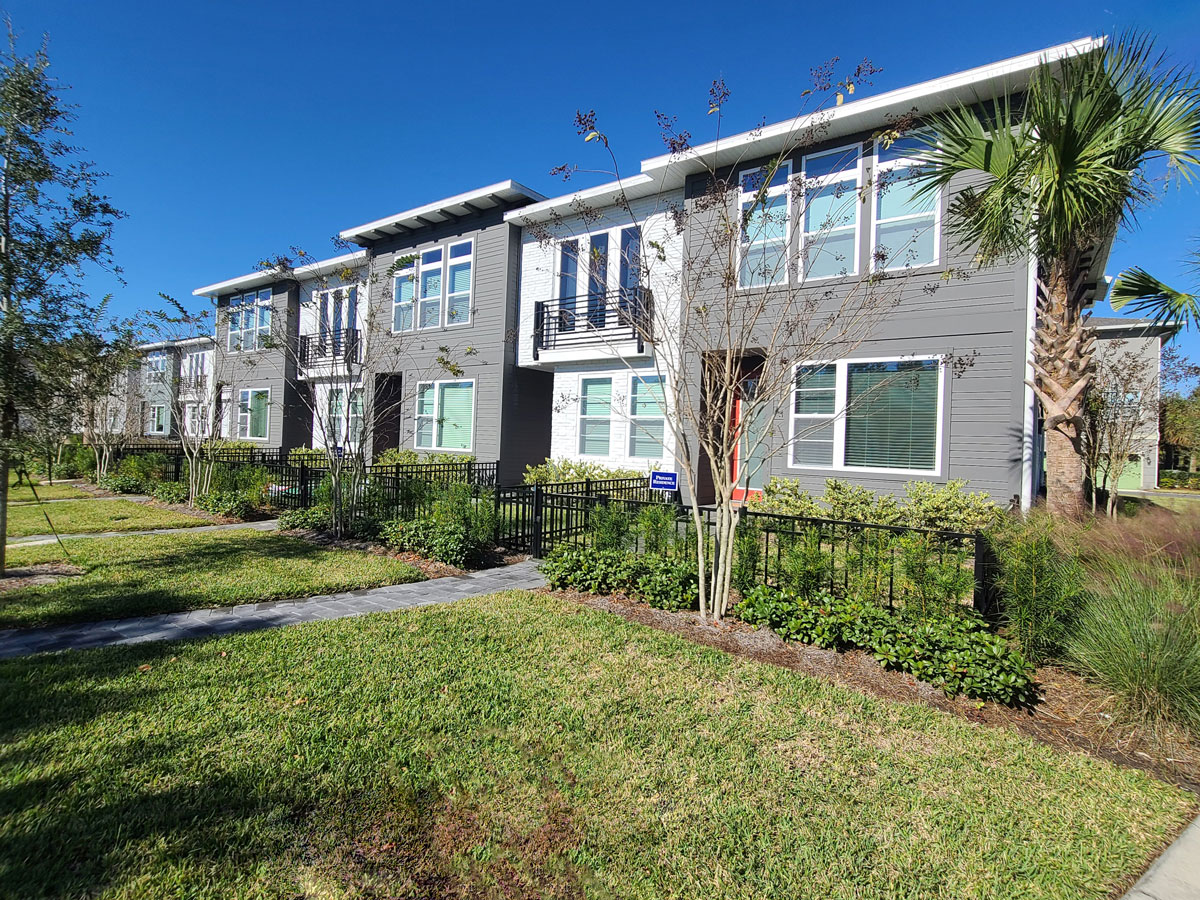 Other design features of this multi-family project include a French balcony installed to run perpendicular to the standing balcony. The load is carried by using two by eight's ran through the truss structure that connected back to the wood frame structure of the balcony. Builder-friendly details also addressed code-mandated fireproofing for the party wall. Monta Consulting & Design is well versed in the variety of methods used to achieve fireproofing, but for this project, the builder chose fire rated gypsum board on each side of the party wall. Our team also coordinated with the truss manufacturer by providing a comprehensive review. For this project, a unique challenge that arose during the review was ensuring that the drag strut would successfully transfer to the shearwall. Truss review is a service chosen by most builders to ensure structural integrity and proactive solutions for construction conflicts.
Monta Consulting & Design is well versed in providing builder and community solutions that are efficient and aesthetically pleasing. Our team takes pride in offering builders a holistic approach by utilizing our diverse skillset. Contact us today if you are looking for a design team to bring your community vision to life.
---
ABOUT MCD